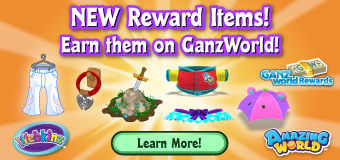 Hello everyone!
Available for you today are not one, not two, not three, but TEN GanzWorld Rewards for Amazing World!  Your Zing can dance the day away in Spring Bay wearing a Tutu, or show some Amazing World spirit wearing a slick varsity jacket.
Play Amazing World today and team up with your friends and lovable cast of characters to help save Amazing World from the evil Queen Vexa!
But wait there is still more!  
We have 5 eStore Webkinz World items too!  You can dress your virtual pet in some groovy bell bottoms or show how much you care about your pet with a best friends collar.
Here are all the new reward items for both Amazing World and Webkinz World:
Amazing World Items
Amazing World Varsity Jacket
Tutu
Blue Baseball Cap
Blue Hoodie
Pink Shirt
Purple Sports Shirt
Red Baseball Shirt
Green Button Up
Pink Umbrella Hat
Red Rocker Jacket
Webkinz World eStore Items
**UPDATE**
These items will be gone after November 10th!
Disco Fever Bell bottoms*
Eau de Skunk Perfume Poster*
J. Russell Best Friends Collar*
Jellyfish Diving Top*
Sword in a Stone*
But don't worry, we have five Webkinz World eStore items coming on November 11th!
Wishing Well 2*
Kinzville Cave Painting Rock*
Chef Gazpacho Sandwich Maker*
Taby's Job Clock*
Ultimate Sleepover Face Stickers*
*available for a limited time 
If you have a stockpile of Moneyz saved up, there is no better time than now to reward your Amazing World Zing and your Webkinz World pet!  If you are short a few Moneyz, don't worry about it because earning Moneyz is simple.  You can earn GanzWorld Rewards Moneyz by reading articles, playing in the arcade, and participating in campaigns, quizzes, and polls, surveys and contests.
In addition, you can view all GanzWorld Rewards items available on Amazing World here and you can view all the current Webkinz World prizes available here.