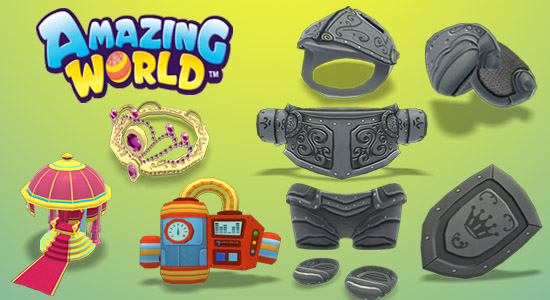 Hello Amazing World fans!
You can get brand new Amazing World items for GanzWorld Rewards this May!
Adorn your Zing with a princess' crown, sit on a beautiful Castle Throne, hook your Zing up with some high tech gear, or don your very own shining armor to quest your way through Amazing World!
The items are:
Knight Shield- Wear this stylish shield on your back!
Knight Armor- Dress your Zing up like a proud knight!
Knight  Gloves- Never break a nail in a joust again!
Knight Pants- Who knew metal pants were so slimming?
Knight Helmet- Having a bad hair day? No one will know!
Knight Boots- Tired of stubbing your toe? Wear these boots!
Enchanted Tiara- Your Zing will feel like a princess!
Castle Throne- Your Zing will look very regal on this throne!
Tech Pack- Cosmo designed this high tech backpack himself!
Some of these items have been brought to Amazing World by brand new characters! Play the Amazing World Who Am I? Game to learn more about them!
These prizes are all available by spending your GanzWorld Rewards Moneys right here on GanzWorld! So play games in the arcade, read articles, or play campaigns and you'll be outfitted with these incredible Amazing World items in no time!