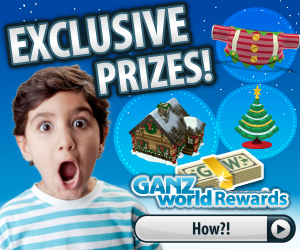 Hello all GanzWorld Visitors!
We are pleased to introduce a brand new prize system: GanzWorld Rewards, a great new way to earn exclusive prizes!
Here's how GanzWorld Rewards works…
Visit Ganz Parent Club, Amazing World Newz, Nakamas Newz, Tail Towns Friends Newz, Share Center and the brand new GanzWorld Arcade.
GanzWorld members can now win Moneyz: the new GanzWorld currency on these sites.   Moneyz can be exchanged for prizes in any Ganz game (Webkinz, Amazing World, Nakamas, Tail Towns Friends, & Webkinz Friends) right on GanzWorld via the drop down log in menu, or by clicking 'Spend your Moneyz!' on the left side of any page.
This weekend GanzWorld members are going to be able to earn Moneyz just by reading posts on GanzWorld. You'll be able to earn up to 500 Moneyz per day, enough for an item in the game of their choice!
GanzWorld members will also start with 1,500 Moneyz to spend right off the bat!
There are fun things to do on GanzWorld! So look around the many sites of GanzWorld, earn Moneyz, and get awesome, exclusive prizes!
Thanks for playing!
The GanzWorld Staff
WHERE WOULD YOU LIKE TO START EARNING MONEYZ?