Great newz for Webkinz Mobile App players!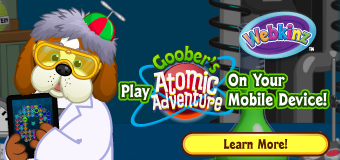 You can now play a great new game from the Webkinz Arcade on your smart phone or tablet: Goober's Atomic Adventure!
Match the atoms, isotopes, and ions to win KinzCash for your Webkinz Pet, then transfer that KinzCash to your Webkinz.com account to spend in the W-Shop!
Download the Webkinz Mobile App for Android or Apple to start playing Goober's Atomic Adventure from anywhere!
Need some more information about the Webkinz Mobile App? Find it here!