Sweet News!  The Berry Festival has begun and runs until July 28th. And this year we've got some fun new prizes and events that are sure to sweeten your day!  Learn More on Webkinz Newz!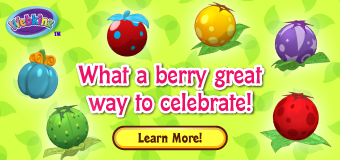 Ganz eStore is getting in on this sweet Festival too! During the Berry Festival the eStore will be selling three machines that dispense Jumbleberry Jam, Sugarberry Jelly and Pickleberry Relish. You can also buy a rustic sign for your Garden and Seed Packs that let you grow Berries yourself!
Plus – you can collect Jam Jars by visiting www.webkinznewz.com and clicking on the floating Jam Jar! You never know which flavor of Jam Jar you'll receive so be sure to visit every day for a chance to win them all!  Learn More!