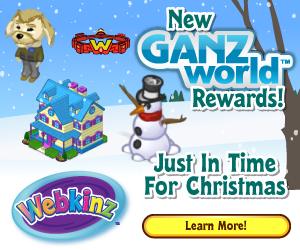 Hello everyone!
Christmas is just around the corner and to celebrate, we have a bunch of GanzWorld rewards to add to our catalog! Available today you can deck your Webkinz World Kinzville map with a jolly snowman, or get an Arte bobblehead for your room.
Here are all the new reward items for Webkinz World:
Webkinz World eStore Items*
Kinzville Jolly Snowman (Map Item)
Kinzville Large Snowy Fir Tree (Map Item)
Kinzville Mansion (Map Item)
Bionic Belt
Bobblehead Arte
*All eStore items are only here for a limited time!
But wait! We are not done yet…
Word around Kinzville is that Santakinz will be dropping off an additional set of GanzWorld Rewards items for Webkinz World on Wednesday December 11th!  So spread the word, and come back this Wednesday to see the additional Webkinz World items!
**UPDATE**
Santakinz dropped off 6 winter themed items to GanzWorld Rewards.   You can now buy the following with your Moneyz!
Winterfest Fireplace Tools*
Winterfest Guitar*
Hickory Clock*
Santakinz Dining Chair*
Reindeer Slippers*
Letter to Santakinz*
*seasonal items are only here for a limited time!
If you have a lot of Moneyz saved in your account, now is the best time to reward your Webkinz World pet! If you are short a few Moneyz, don't worry about it because earning Moneyz is simple. You can earn GanzWorld Rewards Moneyz by reading articles, playing in the arcade, and participating in campaigns, quizzes, and polls, surveys and contests.
In addition, you can view all the current Webkinz World items available here.
Happy Shopping!