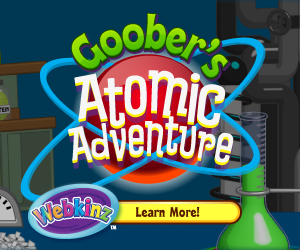 You've been asking for it and now it's here! A brand new Arcade game that is open to ALL players!
Goober's Atomic Adventure is a cool matching game where you line up three or more atoms, either vertically or horizontally, to clear them from the board. If you get a match of four, you get a charged atom which lets you clear a whole line when you match with it. A match of five gives you a supercharged atom that will clear all of one color. Make two matches of three or more with one atom to get an unstable atom that can be matched with two or more of the same color to clear all the atoms around it.
PLUS Goober's Atomic Adventure gives you the option to purchase boosters with eStore points so you never have to worry about getting stuck on a level!
First game to save levels, first game to let you purchase power-ups – that's a lot of firsts! So why not be the first one of your friends to try out Goober's Atomic Adventure, the cool new Arcade game for everyone?
Sounds awesome, right? But guess what? That's not all!.
Goobers' Atomic Adventure saves your levels! So as you complete each level, you move on to a new level with new challenges and the Arcade stores your information and lets you pick up where you left off!