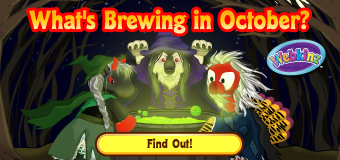 Get ready for Halloween in Webkinz World!
There's a bunch of spooktacular events coming up. Get a preview of what's going on right here on Webkinz Newz!
The Halloween Gift Box: 3 brand new prizes will be featured in the Halloween Gift Box! But you will have to log in on October 31st to get it! Stay tuned for details on what will appear in the box on Halloween Day!
Rickety Haunted Cottage: This Deluxe only haunted house will be available to Deluxe Members, but don't get scared if you aren't! Starting in early October, you'll be able to win the Rickety Haunted Cottage through a quick and easy Challenge in Webkinz Friends and send it back to your Webkinz World account!
Learn more about the Rickety Haunted Cottage here!
Halloween Challenge: The Halloween Challenge begins on October 9th and will last for more than a month! Keep an eye on Webkinz Newz for details about what great prizes your Challenge will unlock!
Learn more about the 2013 Halloween Challenge here!
Halloween Clothing: Pretty soon the Halloween costume items will be coming in to the outlet. Make sure you're saving your Kinzcash!
See the new Halloween Costumes for 2013 here!
Haunted House Room Theme: You'll have to wait a few days to lay your eyes on this eerie Room Theme, but it will be available in the W Shop! Keep a scary space aside for this mysterious motif!
See the new Halloween Haunted House Room Theme here! 
Ghost in the Clubhouse: The days leading up to Halloween are some of the most exciting and Webkinz World is no different! Starting on October 20th you will be able to visit a mysterious ghost in the Clubhouse Reading Room every three hours. This ghost has some very delicious treats for your pet to collect and use to unlock a very special prize!
There will also be a multitude of special Halloween themed events happening on Webkinz Newz!
We'll be releasing more and more details as these events get closer, so keep in touch with Webkinz Newz to know just what Halloween will bring this year in Webkinz World!